Ayushmann Khurrana Observes Karva Chauth Fast For Wife Tahira Kashyap's Good Health, Long Life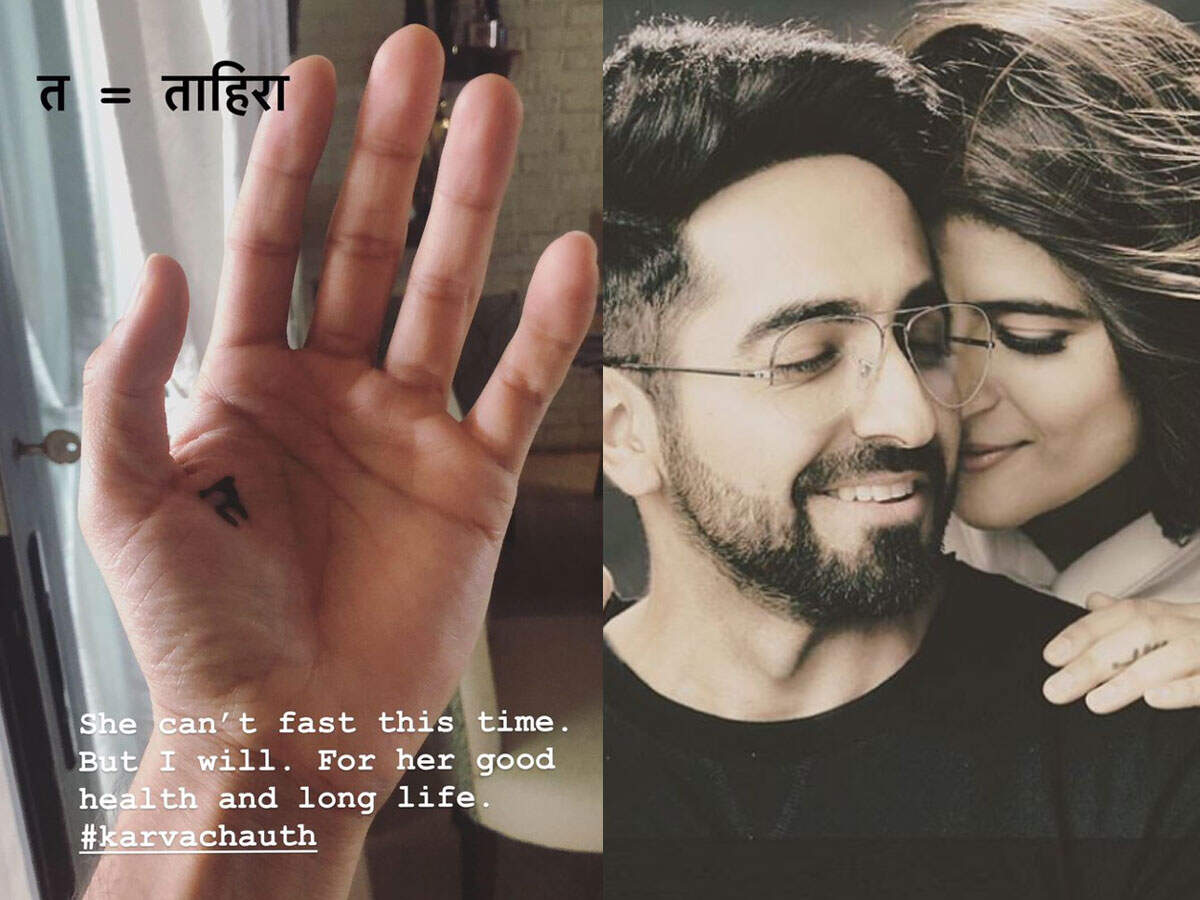 1/7Ayushmann Khurrana observes Karva Chauth fast for wife Tahira Kashyap's good health, long life
Actor Ayushmann Khuranna has broken away from tradition to observe a Karva Chauth fast for his wife Tahira Kashyap, who has been detected with pre-invasive breast cancer.
Khurrana took to Instagram, where he shared a photograph of his palm with the letter "t" in Hindi was written with henna. He captioned it, "She can't fast this time but I will. For her good health and long life. Karva Chauth."
On September 22, Tahira revealed that she has been detected with pre-invasive breast cancer. She posted on Instagram that she was detected with DCIS (ductal carcinoma in situ) in her right breast with high-grade malignant cells."Simply put stage 0 cancer/pre-cancerous stage, with cancer cells multiplying in a contained area."
Ayushmann is not the only Bollywood star to set major husband goals by observing a fast for his wife. Actor Abhishek Bachchan also took to social media to state that he would be doing the same and encouraged other men to also do the same.
On the acting front, Ayushmann is currently riding high on the successes of his two latest release 'Badhaai Ho', which is nearing the Rs 70 crore mark, just over a week since its release in theatres nationwide.
2/7Reasons we love Ayushmann Khurrana
The dimpled actor of Bollywood, Ayushmann Khurrana has turned 32 today. The talented actor who made his debut in the year 2012 with Shoojit Sircar's Vicky Donor has garnered an impressive fan following overtime. The actor is also very popular across various social media platforms.
On his birthday, let's have a look at the reasons of our love for Ayushmann Khurrana...
3/7Reasons we love Ayushmann Khurrana
An amazing VJ/Host
The talented actor, who won the second season of MTV Roadies, got a kick-start in his career and launched as a VJ in MTV. The actor became a video jockey with MTV and hosted MTV Wassup and The Voice of Youngistaan and one season of MTV Rock On. Ayushmann Khurrana also hosted many popular TV shows like India's Got Talent on Colors, Extra Innings T20(Season 3), Just Dance and various Awards shows. The actor already had a huge fan following before entering Bollywood because of his excellent hosting skills.
4/7Reasons we love Ayushmann Khurrana
Different kinds of roles
Today when actors set a trend of doing same kind of roles, Ayushmann Khurrana is one of those rare actors in the industry who have performed different kind of roles. The good looking actor, who made his Bollywood debut in the year 2012 with the film Vicky Donor, has acted in 5 films till date. His 2015 release, Hawaizaadaand Dum Laga Ke Haisha proves that he can carry any kind of role with ease. With his acting in the film Dum Laga Ke Haisha, Ayushmann Khurrana truly won the hearts of his fans and he even received critical appreciation for his performance.
5/7Reasons we love Ayushmann Khurrana
Interaction with fans on Social Media
Ayushmann Khurrana is very active on social media and he sees to it that he remains in touch with his fans through his Twitter and Instagram account. Ayushmann Khurrana never forgets to tweet about his upcoming movies and other social events and he also posts personal pictures from sets or any function he attends. Ayushmann Khurrana has tremendous followers on social media which keeps increasing on a daily basis.