Exotic Setting Is Let Down By The Predictable And Uninspired Writing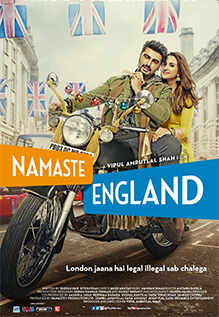 Namaste England Story:
Param (Arjun Kapoor) and Jasmeet (Parineeti Chopra) fall in love and they get married. Their perfect romance gets disturbed by Jasmeet's suppressed ambition however. She has dreams of going to London so that she can pursue her career and build a better life for herself. But Param isn't able to get a visa and that creates some high drama in their love life.
Namaste England Review: Love makes you do strange things and sometimes the unconventional too. But, getting embroiled in illegal immigration for the sake of your love, does seem a bit far-fetched. 'Namaste England' is the story of a happily married couple who get caught up in a strange adventure. They want to relocate to London, leaving behind a comfy life in Punjab, just because the wife, Jasmeet, isn't allowed to have a career. The seemingly progressive couple, take some bizarre decisions in life, ones that actually take their relationship to a breaking point. The story does have an underlying message, but the lackluster writing and direction aren't able to explore the true potential of the film.
'Namaste England', begins as a run-of-the-mill love story, where boy meets girl, they fall in love and quickly get married. But, the problem arises when Jasmeet (Parineeti) wishes to be a jewellery designer and Param (Arjun) can't help her out even though he wants to. He and his father have been sworn by Jasmeet's granddad to not let her work. Even if you do come to terms with the regressive values of the characters, the ho-hum screenplay makes 'Namaste England' a lot tougher to sit through. The long-drawn first half of the film just doesn't get moving. The interval brings an unexpected twist, but then the second half dives into over-the-top comedy and melodrama. The whole premise of Param not being able to get a visa is a little too light on logic. What makes things worse is the background score, which feels like it belongs in a campy 90s comedy.
'Namaste England' is shot in some beautiful locations across India and Europe, but the exotic setting is let down by the predictable and uninspired writing. Arjun Kapoor and Parineeti Chopra had crackling chemistry in 'Ishaqzaade' (2012) and the duo still look great together, but their characters are so poorly crafted that even their best efforts can't salvage the story. Parineeti, in particular, tries very hard to add some semblance of respect with her performance, but it just doesn't work out. Alankrita Sahai, in a glamorous avatar, looks great on-screen, but her role doesn't offer any chance to perform, either.
The music, lead by tracks like 'Bhare Bazaar', 'Tu Meri' and 'Proper Patola', is far more entertaining than the film. 'Namaste England' has a lot of promise, but the film just isn't able to shake off the ill-effects of clichéd storytelling. This one's a classic case of love's labour lost.
Also Read:'Namaste England' is a musical love story